We are searching for pureness, overcoming limitless
Vivagen Co., Ltd. developed EXL¢ç 7&5 Lab Water System which consists of experts who have more than 20 years
experience in R&D. We are doing our best to help customers solve their complex problems and achieve their goal
with our expertise and technical know-how. We will give you the best satisfaction for various experiments with features
that are not available in existing equipments and reasonable price.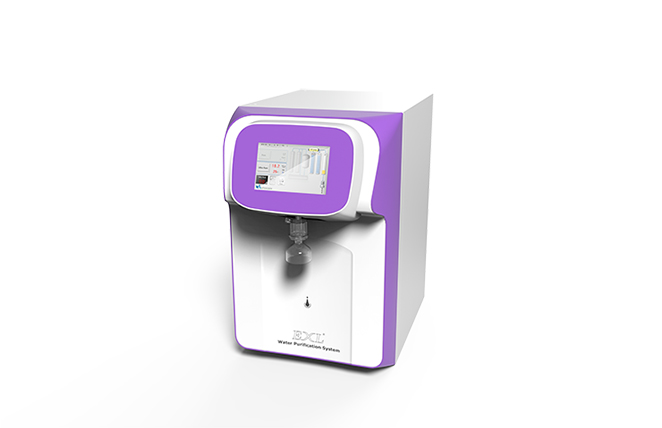 ASTM Type l Grade
Molecular biology, PCR , DNA sequencing , Cell culture , Media preparation , Microbiology,
In-vitro fertilization , Electrophoresis, Monoclonal antibody production
Ultra-trace and trace-organic and organic analysis , HPLC, GC-ms, ICP-MS , TOC Analysis
Ion chromatography , Solid phase extraction , Electrochemistry
Ultrapure(Type I) Water System
EXL¢ç7 UBio System produces Ultrapure water(Type¥°) by supply water such as RO Water, Distilled water, and EDI Water.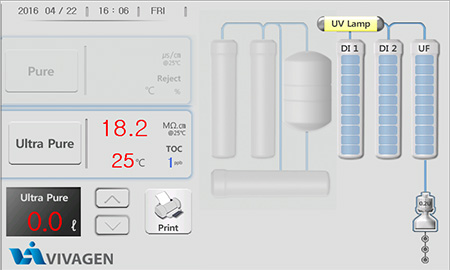 Fast Flow Rate
EXL¢ç7 UBio system can produce Ultrapure water(Type I) as fast as up to 120L per hour.
Touch screen (7¡±) & Voice guidance, Message guidance
For ease of use, the system is installed touch screen, the Setting of voice and Pop-up message guidance.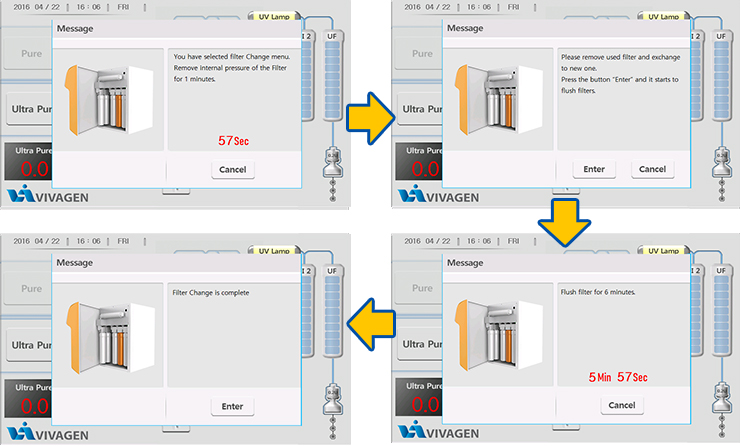 Touch screen monitor
• Displays the lifetime and usage information of each filter
• UV lamp indicator
• Product indicator & Set Point setting
• Pump monitor
• Total Product amount
• Print out
• System information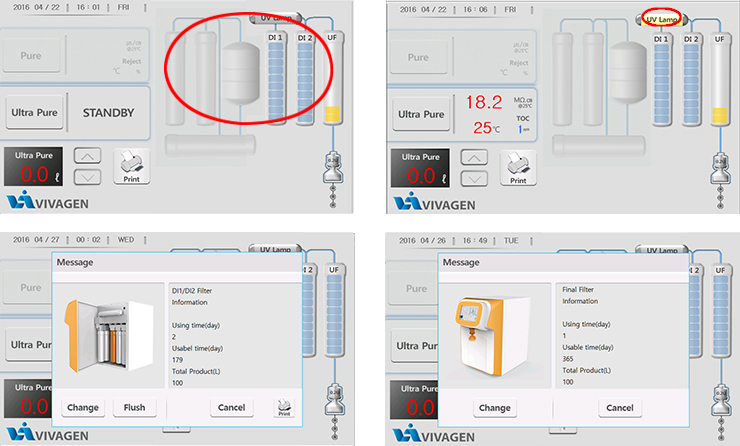 Volumetric function dispensing function
Built in quantitative sampling function to drain off Ultrapure(Type I) Water as much as user wants. (0.1L~99.9L units)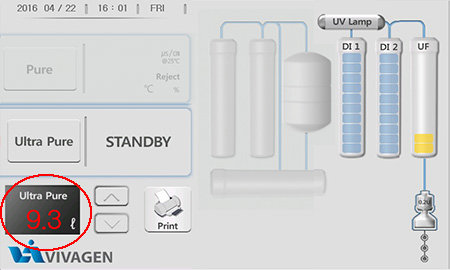 High Capacity DI Cartridge
Using the highly processed DI cartridges provide the best water quality.
UV Lamp & Leakage detector(2ea) installed by default
EXL¢ç7 UBio System has a UV lamp installed by default, which can produce Ultrapure Water with extremely low level of organic substances.
In addition, a leakage detector is installed in and out by default to secure the safety for the device and lab.
If it detects a water leakage, the device stops all producing, and be on standby.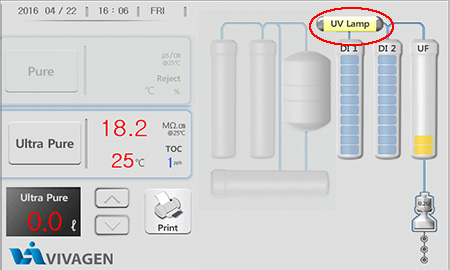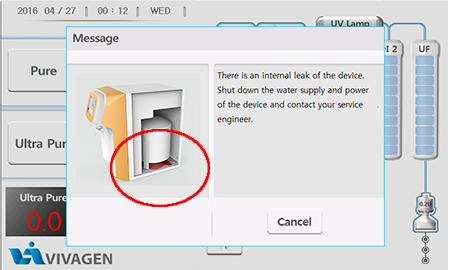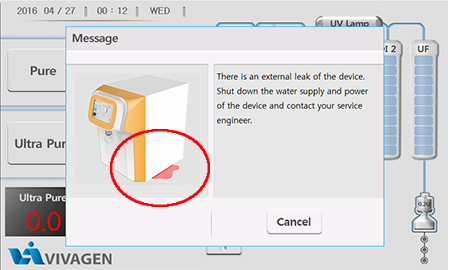 Easy to install and initial installation automatic wash
It is easy to install for anyone and it has the function to automatically clean all filters installed in the system at the time of initial installation.
History storage
Consumable exchange, Alarm, Set point
Data storage
Filter Information (Used & Available time, Total output), Alarm history, Consumable exchange history are saved in USB memory.
Software update
It is easy to be up to date software by USB memory anybody.
Remote control
Direct system control via internet network & technician¡¯s direct access.
TOC Monitoring (Option)
Displays TOC value of Ultrapure Water, and a message pops up on screen when it is out of set point.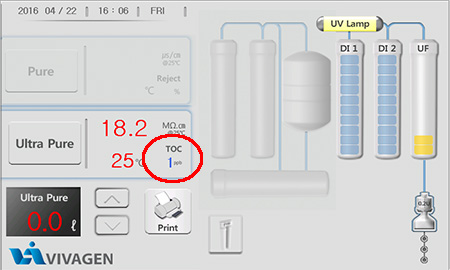 POU (Point Of Use Gun) (Option)
The remote dispenser is equipped with quantitative sampling function to allow user to produce
Ultrapure Water(Type I) as much as user want. (0.1L~99.9L)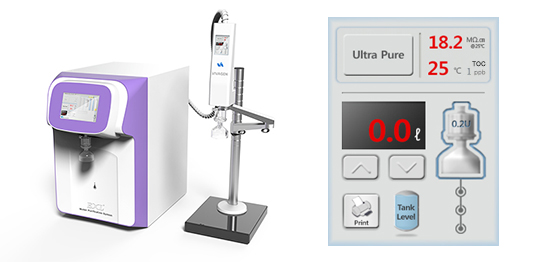 Foot Switch (Option)
In case of the user cannot manually operate the equipment, the Foot Switch is installed
Founded in 2003, Vivagen Co., Ltd. is the company which consists of experts who have more than 20 years of experience in sales, marketing and R&D.
Our products consist of self-developed Pure & Ultrapure integrated water system (EXL¢ç Series), Gas control module for cell culture (EXL¢ç Navigator), Transfection Reagent (VivaMagic), Taq Polymerase and Marker.
Vivagen Co., Ltd. provides differentiated services to customers in various experiments such as filtration, purification, concentration, incubation and analysis.
We are sure our expertise and technical know-how help customers solve their complex problems and achieve their goals.
The patent of Lab Water System is registered with Korean Intellectual Property Office in Oct. 2010. In 2016, we released new product, EXL¢ç7.
Ordering Information
Order No.

Discription

System

EXL¢ç7 U Bio

EXL¢ç7 U Bio Ultrapure Water System (w/UV lamp)

Option

LM-VAL

IQ/OQ Validation EXL¢ç7 Pure or Ultra Pure

LM-EXL7-ITOC

Inline TOC for EXL7

LM-EXL-Printer

Printer for EXL5&7

LM-EXL-POU

Piont of use gun Pure or Ultra Pure for EXL5&7

LM-EXL-FW

Foot Switch EXL5&7

Consumables

LM-EXL7-DI

DI Cartridge#1 for EXL7(each 2ea/pk)

LM-EXL-UV

UV Lamp for EXL3&5&7

LM-EXL7-UF

UF Membrane for EXL7

LM-FINAL

0.2u Final filter for EXL3&5&7